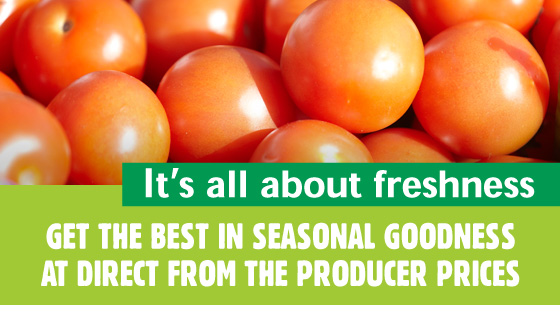 Click
here
to see
tables as to what Vegetables, meat, Game and Fish is available by season
August at the Farmers' Market
We are now heading into peak harvest time so make the most of the abundance of goodies and plan time for some preserving so that you can continue to enjoy great ingredients through the colder months. Make your own jams, chutneys and pickles now, and leave them to mature in a cool dark place to allow the flavours to meld and develop. They will be at their best just in time for Christmas and make perfect presents.
Tomatoes
, in all kinds of varieties, are in abundance and taste superb right now, as do
shallots, onions, French and runner beans, courgettes, aubergine, peppers, cucumber,
and an amazing number of
salad leaves
.
Corn on the cob
is an August highlight and should be cooked and eaten as fresh as possible before the natural sugars turn to starch – to cook on the barbecue, protect the cob by leaving on their leaves and serve with a lime and chilli butter. Early
marrows
and
squashes
should also be available, along with main crop potatoes.  
The soft fruit season is still in full swing for
raspberries, currents, plums, blueberries
and
blackberries
(cherries may still available). Now is the time to buy soft fruit and convert it into jams, ice cream or store in the freezer to bring a taste of the summer to the winter months. Take a tip from the French and bottle the best quality fruit in alcohol such as eau de vie, vodka or brandy.
Summer fish is plentiful this month.
Salmon
and s
ea trout
are always a treat and cook as simply as possible to preserve their flavour.
Sole, sea bass
and
plaice
are also excellent now. Continue to enjoy mackerel on the barbecue where their oily flesh keeps its wonderful texture so well.
New season lamb
is now available. They have now been reared on grass for 6 months (compared to the normal 3-4 months for supermarket bred lamb). The BBQ is the perfect way to make the most of it, try a butterflied leg of lamb, cooked whole on the barbecue. Marinate overnight in yogurt and spices then barbecue and served piled into flat bread with barbecued vegetables. You will also find some interesting
sausage
combinations perfect for the BBQ – try wild boar and apple, venison, and even pork flavoured with hops. Finish off with a cheese board and artisan bread.
Finally, don't forget that the Glorious 12th this marks the start of the new game season so look out for
venison, wild duck, wood pigeon
and
rabbit
towards the end of the month.
Kent Life Magazine has featured many articles about farmers' markets along with a seasonal recipes made with local produce
HERE>
Click
here
for details as to when food is in season